Coated Steel Pipe
Product Detail
Specification
Standard
Painting & Coating
Packing & Loading
Coated steel pipe means the pipe that is by the processing after the corrosion, which can effectively prevent or slow the steel pipe occurs in the course of transport and chemical or electrochemical reaction corrosion phenomena. Coated steel pipe can effectively prevent or slow down the corrosion of steel pipes to extend service life and reduce operating costs pipe.
Applications of coated steel pipe
coated steel pipe base metal is including spiral, straight seam pipe, seamless steel pipe, etc., which are widely used in pipeline projects in the field of petroleum, chemical, natural gas, heating, sewage treatment, water, bridges, steel structures, piling and other marine water.
Standard:
DIN 30670: Polyethylene coatings of steel pipes adn fittings.
DIN 30678: Polythylene coatiing of steel pipes and fittings.
SY/T0413-2002: Technical standard of polythelene coating for buried steel pipeline.
Types of anti-corrosion coating
Pipe corrosion types are divided into external corrosion and internal corrosion.
1. FBE anticorrosive epoxy powder
FBE epoxy powder preservative structure: electrostatic spraying
epoxy powder coating on the pipe surface, a film. The coating
has a coating operation is simple, clean, good impact resistance
and flexural properties of the coating, temperature resistance
advantages.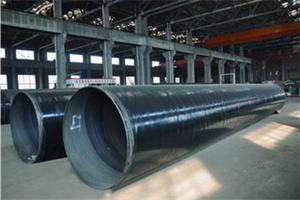 2. 2PE/3PE corrosion
2PE/3PE corrosion structure: the steel surface electrostatic spraying
epoxy powder and binder twine lateral lateral wound polyethylene
coating, combined with three excellent performance, thereby significantly
improving the overall quality of corrosion of the pipe. Resistant to chemical
corrosion, cathodic stripping, resistance to mechanical damage performance.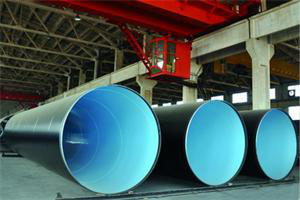 3. Coal tar epoxy
Coal tar epoxy structure: epoxy resin + filler made of coal tar pitch
anticorrosive coating on the steel surface coated glass fabric as reinforcement
corrosion layer formation, commonly used in the pipe wall corrosion. thickness of 0.5 ~ 1.0mm.
---
Previous:
SSAW Steel Pipe
Next:
Bend
---
3PE Steel Pipe Sizes
Coating Type

Coating Layer

Coating Thickness

Three layers polyethylene

Inside layer: epoxy (Green)

2.0-4.5mm

Mid layer: adhensive (White)

Outsidelayer:polyethylene (Black)

Two layers polyethylene

Inside layer: adhensive

2.0-4.5mm

Outside layer: polythene

Epoxy

Epoxy

200-400um

Two layers epoxy

Inside layer: expoxy (Green)

400-800um

Outside layer:intensity epoxy (sage green)

Three layers polyethylene

Inside layer: expoxy (Green)

2.5-3mm
DIN30670 for three-layer extruded and one- or multi-layered sintered polyethylene-based coatings
DIN30671 thermoset plastic coating For buried steel pipes
DIN30678 polypropylene coatings for steel pipes
CAN/CSA Z245.20/-Z245.21-02 external fusion bond epoxy coating for steel pipe/external polyethylene coating for pipe
SY/T4013-2002 for transport water, gas, oil,piling coating
SY/T0315-97 PE coating for buried steel pipe
One Layer / Double Layer FBE anti-corrosive coating powder (200um~800um)
3PP (Polypropylene) Coated Steel Pipe
DIN30678 standard technical specification for polypropylene coating for steel pipe and pipe fittings
3PP Coating Advantages:
The 3PP coated steel pipe refers to steel tubing with three layers of PP(Polypropylene) coating. It offers high electric strength, acid resistance, alkali resistance, salt-tolerance, electric insulation, long service life, thermal endurance and impact resistance. Because of advanced steel pipe coating technology, this type of plastic coated steel pipe features well-bonded coatings.
3PP Coating Applications:
The 3PP coating steel pipe is suitable for transferring special materials, such as high temperature materials, because it offers high electric strength, acid resistance, alkali resistance, salt-tolerance, electric insulation, long service life, thermal endurance and is impact resistant.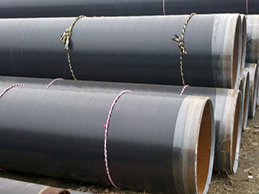 FBE Coated Steel Pipe
FBE coating pipe is Fusion Bonded Epoxy coating steel pipe. It is an externally applied heat resin for pipe. With a form of dry powder at thickness 300-600 microns on to the heated surface of pipe. Once the FBE coated on the pipe surface, the FBE film provides an extremely hard surface with great adhesion to the pipe surface. The FBE layer in a even form and have good resistance to the chemical reaction.
Polyurethane Insulation Coating Steel Pipe
The polyurethane direct buried heat preservation pipe is a direct buried preheating heat preservation pipe with good heat preservation performance, safety and reliability, and low engineering cost. The buried thermal insulation pipe not only has the advanced technology and practical performance that is difficult to compare with the traditional trench and overhead laying pipeline, but also has obvious social and economic benefits, and is also a powerful measure for heating and energy saving.
It is characterized by a multi-purpose use to prevent the spread of fire and good fire safety performance. Black jacket insulation pipe includes spiral steel pipe, straight seam steel pipe and seamless steel pipe. The outer layer is made of black polyethylene and is called a black jacket insulation tube.