Hollow Section
Product Detail
Specification
Standard
Painting & Coating
Packing & Loading
A hollow structural section (HSS) is a type of metal profile with a hollow cross section. The term is used predominantly in the United States, or other countries which follow US construction or engineering terminology.
HSS members can be circular, square, or rectangular sections, although other shapes such as elliptical are also available. HSS is only composed of structural steel per code.
HSS is sometimes mistakenly referenced as hollow structural steel. Rectangular and square HSS are also commonly called tube steel or box section. Circular HSS are sometimes mistakenly called steel pipe, although true steel pipe is actually dimension and classed differently from HSS. (HSS dimensions are based on exterior dimensions of the profile; pipes are also manufactured to an exterior tolerance, albeit to a different standard.) The corners of HSS are heavily rounded, having a radius which is approximately twice the wall thickness. The wall thickness is uniform around the section.
In the UK, or other countries which follow British construction or engineering terminology, the term HSS is not used. Rather, the three basic shapes are referenced as CHS, SHS, and RHS, being circular, square, and rectangular hollow sections. Typically, these designations will also relate to metric sizes, thus the dimensions and tolerances differ slightly from HSS.
---
Previous:
Carbon Steel Pipe
Next:
Galvanized Steel Pipe
---
Square tubes sizes
Size (mm)
Wall Thickness (mm)
Size (mm)
Wall Thickness (mm)
20*20
1.2
70*7060*80100*40
1.8
1.3
2
1.4-1.5
2.2
1.7
2.3
1.8
2.5-4.0
2
4.5-5.0
2.2
5.5-5.75
2.3
75*7560*90100*50
1.8
2.5-2.75
2
25*2520*30
1.2
2.2
1.3
2.3
1.5
2.5-4.0
1.7
4.5-5.0
1.8
5.5-5.75
2
80*80100*60100*80120*60
2
2.3-2.3
2.2
2.5-3.0
2.3
30*3030*4025*4020*40
1
2.5-4.0
1.2
4.5-5.0
1.3
5.5-5.75
1.5
7.5-7.75
1.7
100*100120*80
2
1.8
2.2
2
2.3
2.2
2.5-5.0
2.3
5.5-5.75
2.5*2.75
7.5-7.75
3
120*120140*80150*100160*80
2.5
40*4030*5025*50
1.2
2.75
1.3
3
1.4-1.5
3.25-5.0
1.7
5.5-7.0
1.8
7.5-7.75
2
140*140150*150200*100
3.5-4.0
2.2-2.3
4.5-5.0
2.5-4.0
5.25-7.0
50*5060*4030*6040*50
1.5
7.5-7.75
1.7
160*160180*180
3
1.8
3.5
2
3.75
2.2
4.0-5.0
2.3
5.25-5.75
2.5*-4.0
7.5-7.75
4.25-5.0
60*6040*8075*7550*7050*80
2.3
60*6040*8075*4550*7050*80
1.5
2.5-4.0
1.7
4.25-5.0
1.8
5.5-5.75
2
/
2.2-2.3
/
Rectangular Pipe sizes
Size (mm)
Wall Thickness (mm)
Size (mm)
Wall Thickness (mm)
20*20
1.2
70*7060*80100*40
1.8
1.3
2
1.4-1.5
2.2
1.7
2.3
1.8
2.5-4.0
2
4.5-5.0
2.2
5.5-5.75
2.3
75*7560*90100*50
1.8
2.5-2.75
2
25*2520*30
1.2
2.2
1.3
2.3
1.5
2.5-4.0
1.7
4.5-5.0
1.8
5.5-5.75
2
80*80100*60100*80120*60
2
2.3-2.3
2.2
2.5-3.0
2.3
30*3030*4025*4020*40
1
2.5-4.0
1.2
4.5-5.0
1.3
5.5-5.75
1.5
7.5-7.75
1.7
100*100120*80
2
1.8
2.2
2
2.3
2.2
2.5-5.0
2.3
5.5-5.75
2.5*2.75
7.5-7.75
3
120*120140*80150*100160*80
2.5
40*4030*5025*50
1.2
2.75
1.3
3
1.4-1.5
3.25-5.0
1.7
5.5-7.0
1.8
7.5-7.75
2
140*140150*150200*100
3.5-4.0
2.2-2.3
4.5-5.0
2.5-4.0
5.25-7.0
50*5060*4030*6040*50
1.5
7.5-7.75
1.7
160*160180*180
3
1.8
3.5
2
3.75
2.2
4.0-5.0
2.3
5.25-5.75
2.5*-4.0
7.5-7.75
4.25-5.0
60*6040*8075*7550*7050*80
2.3
60*6040*8075*4550*7050*80
1.5
2.5-4.0
1.7
4.25-5.0
1.8
5.5-5.75
2
/
2.2-2.3
/
ASTM A500 Cold Formed Welded and Seamless Carbon Steel Steel Structural Tubing in Round and Shapes
EN 10210 Hot finished structural hollow sections of non-alloy and fine grain structural steels
EN 10219 Cold formed welded structural hollow sections of non-alloy and fine grain steels
ASTM A53 used as structural steel or for low-pressure plumbing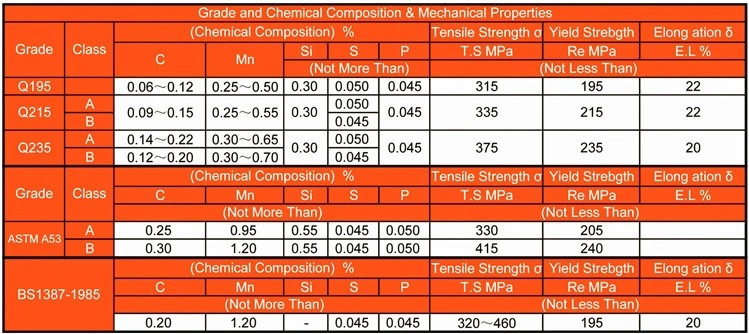 Bare, Black Painting, Lightly Oiled